Zhongtuo fully automatic C purline, Z purlin, CZ purline rolling forming machine is designed to make the C pulrine, Z purline or CZ purlines in batch fully automatically. Zhongtuo CZ purline machines give following two options:
Option A: Manual sizes changing by handrail from C to Z, but the detail size changing, you can set by PLC.
Option B: 99% automatic degree, the sizes changing and CZ shape changing all by PLC. The shape could be changed within 1 minute.
It has the following features:
1. This machine can do a rapid Inter-changeable CZ Purlin Roll forming System.
2. Capable of producing the standard industry range of Cee, Zee, U shapes 80-300mm within the thickness of 1.5 to 3.2mm.
3. Providing programmable modular hydraulic punching and cutting as default we give 5 types of punching dies.
4. Rapid C/Z profiles and its size changeover times under 5 minutes.
5. European quality control, machine surface adopts powder coating, coating before assembly.
6. Delivery capacity 220-300 sets per year, the largest and most professional manufacturer in China.
7. Fast delivery, once receive the deposit we can arrange the delivery within 25 days.
Customer drawing profile and size range: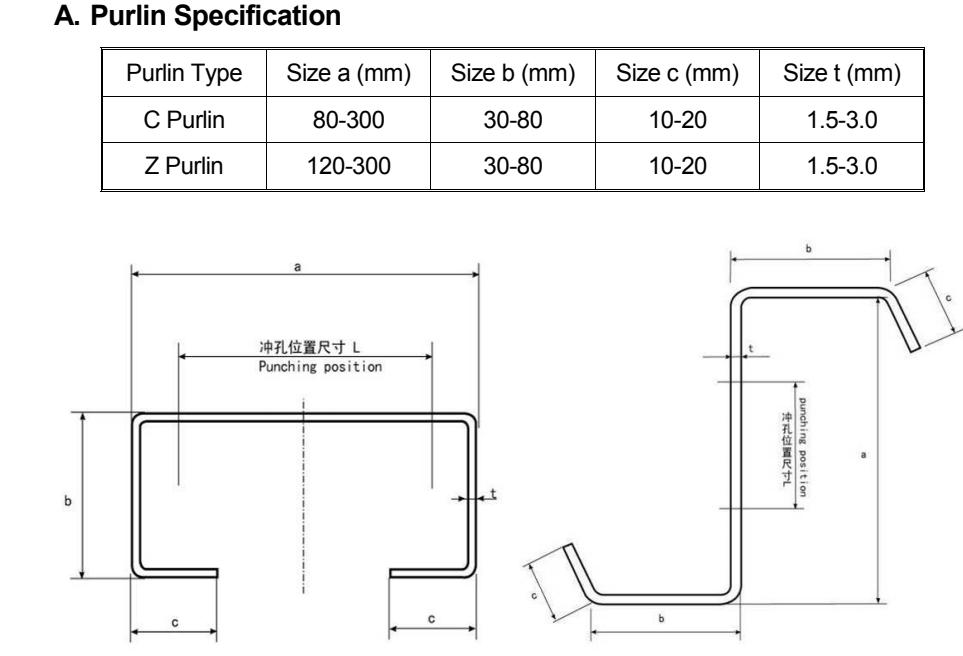 About the punching drawing:
Here is one example drawing profile for your reference. As default we give 4 punching station, if you have more types we can add. Normally it has side holes and bottom holes.


CZ purline working flow:
Uncoiler – (Pre-Shearer) –Leveling & Guiding – Main Roll Forming Machine – Hydraulic Punching – Hydraulic Universal Cutting – Runout Table
Detail information of Each Part:
Leveling part
1. Leveling system: top 3 and bottom 4 rollers, with extra 2 couple of pinch rollers.
2. Leveling roller diameter: Ø 80/100mm
3. Rollers are solid shaft with heating treatment, polishing and galvanizing.
4. Guiding system including guiding shaft and guiding rollers, their width is adjustable in order to suit for various steel strips.
Pre-shearer (Optional)
It is used to pre-shear the coil strip before or after forming.
The pre-shearer is individual controlled by button which is installed on shearer frame.

SIZE CHANGING
Method 1: Manual adjustment: adjust 5 to 10 handrail to change shape from C to Z
From C n to Cz, PLC control.
Method 2: Button Control. That means 90% fully automatically. Press that button then from C to Z could be changed fully automatically.