ZhongTuo Machinery is specialized in manufacturing different kinds of machines, from standard W beam guardrail roll forming machine to customized types of machines.
Here is a video of the machine working process for your reference:
If you are interested in our machine, please contact us at any time! We are waiting for you!
A photo of the machine for your reference:


The drawing profile and finished product are displayed below for your reference:
Basic Information of raw materials:
Material:PPGI,GI, Galvanized steel
Thickness:3.9mm
Material width: 316mm
The working process:
Uncoiling→ Feeding material into machine →punching →Roll forming →Necking and cutting →Products receiving table


Here are some information of highway guardrail w beam 2 wave roll forming machine, including packaging list, technical parameters of main components.
Packaging list of main components
Item
Name
Usage
Quantity
1

5

T hydraulic decoiler
set
1
2
Main roll former
set
1
3
PLC control station
set
1
4
Hydraulic oil pump station
set
1
5
Product run-out table
set
1
6
Tools
set
1
Technical parameters of main components:
5T hydraulic decoiler
1. Supporting the coils and doing uncoiling. The capacity is 5 Tons(max).
2. It adopts the hydraulic oil cylinder to make the decoiler expandable and fit to the inner diameter of coils.
3. Motor drive the coils running and can do forward and reverse running as well as do the decoiling with tension.
4. The core can ensure the expand range φ450 of the coils inner diameter. It will provide the rubber band to ensure the 550 mm diameter.
Carrying capacity: 5 tons
Max coil width: 500 mm
Feeding speed: 0-20 m/min (adjustable)
Driving motor power: 3 kw
Hydraulic motor power: 3 kw
5. Structure: welding by the steel plates and profiled bar.
6. The decoiler is equipped with the brake system
7. With pressure arm, can prevent the material from falling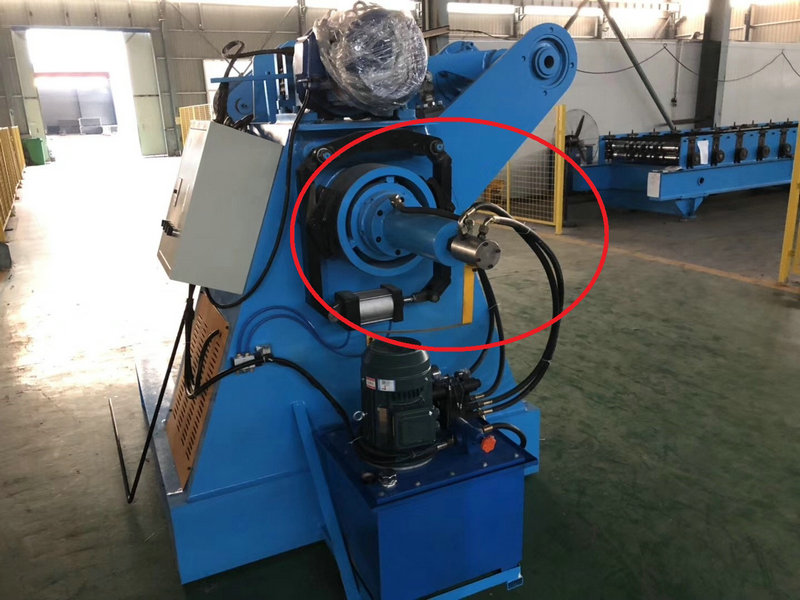 Feeding and leveling device and punching


Usage: Make sure inputted steel sheet straight and neat and then roll forming process could be made accurate.
1.7 rollers leveling:top three,down four +two lead.
2.Roller material:Cr15
3.Roller diameter:75mm
4.The material of rollers could stop scratching the zinc of the steel.
Structure: The frame adopts a gantry type and is made into a whole. The two sets of punching machines are two punching machines, and the power source is the cylinder pressure type: the hole position is fixed in the longitudinal direction,
The main parameters:
Punching type: Hydraulic stop punching
Punching unit quantity: 2 sets with cylinder driving
Mold material : Cr12
Maximum punching plate thickness:4mm


Main roll forming part


Main motor power: 30 kw
Voltage: 380V/60HZ/ 3P
Table frame: 400 U beam
Roller station: 16 stations
Roller material: Cr15 quench treatment precision machining
Shaft diameter:¢

10

0mm
Shaft material: 45# steel
Transmission: by Gear box
Roller stand: cast steel structure
Working speed: 0-

2

0 m/min
The width and the height of the profile can be automatically adjusted by the PLC control station.


Necking and cutting


Cutting type: after forming stop cutting
Power supply: hydraulic power
Material of blade: Cr12mov quench treatment
Length measuring: automatic encoder measuring
Tolerance of length: 3000mm+- 1.0mm
Automatic necking 300mm
PLC control station


1. PLC. Touch screen. Inverter: Delta from Taiwan
2. Encoder: Omron from Japan
3. Language: Chinese and English
4. Control panel: Button-type and touch screen
5 Low pressure electric:Schneider brand
Control command:Size adjustment,speed, cutting length, cutting quantity,emergency stop etc.
The PLC is powered by the software that controls the automation of the processes of forming ,cutting and punching, which is the latest technology available and convenient for operators to meet a meet a predetermined production.






Hydraulic oil pump station


1.Hydraulic oil: 46# hydraulic oil
2.Power:7.5KW
3.Cooling type:fan cooling
It is controlled by the gear oil pump. After filling the hydraulic oil into the hydraulic oil tank, the hydraulic pump drives the shear to work and empowers the punching operation.


Product run-out table


1.Length:6m
2.Quantity: 1 sets
3. Structure: The frame body is welded with angle steel and angle steel, and is equipped with an oil pump. The finished product can be automatically placed on the platform.