Description of The Popular Drip Edge Roll Former 2x3 Gutter Apron FHA american metal roof flashing machine USA aluminium trim roll former
This Popular Drip Edge Roll Former can produce drip edge profiles with different sizes and specifications in mass production. Normally the production speed of this drip edge roll former is 45 m/min. And certified with different patents in accordance with CE Certified, EUROPEAN quality standards, our drip edge roll forming machine is well known for its stable performance. Prompt delivery for ready machines in stock is also available for this series.

Parameter of The Popular Drip Edge Roll Former in the US

Machine parameters
Main roll forming machine
Voltage

220V 50Hz 3Phase (as customer request)

Frame type

One side molding frame and one side steel wall plate

Drive mode

Chain drive

Material of rollers

GCr12 MOV

Material of shafts

45# steel with tempering

Forming speed

45 m per minute

Shearing Mechanism
Material of blades

GCr12 quenched

Cutting power
7.5kw
Receiving table
Table quantity

1 set

Table length

3 m per set

Hydraulic station
Hydraulic motor Power
7.5kw
Hydraulic oil

46# hydraulic oil

Cooling system

With cooling fan

PLC control system

Language

Chinese and English or as customized

Voltage

220V 50Hz 3 Phase (as customer request)

Length measurement

Automatically controlled by PLC

Quantity measurement

Automatically controlled by PLC

Length Tolerance

3m±1.5mm

Operating panel

Touching screen and button together

Brand of PLC

Delta (Taiwan)

Low voltage electrical apparatus

Schneider

Counter

OMRON
Different Types of The Popular Drip Edge Roll Former in the US

There are four main types of the popular drip edge roll former: FHA Profile roll forming machine, F5 profile roll forming machine, 90° DRIP EDGE and flashing roll forming machine, and Step Flashing Roll Forming Machine. You can choose the appropriate style according to your actual needs.


1.
FHA Profile Roll Forming Machine
Main technical parameters
Brief introduction
Material type
Galvalume
Material thickness
0.46mm
Material Yield Strength
N/mm2 = 380
Material Width
152.4mm
Weight of Coil
2500kg
Double head hydraulic decoiler 1.5T (total 3 tons)
Loading capacity
1.5T+1.5T
Double head hydraulic decoiler 1.5T (total 3 tons)
Uncoiling width
300mm
Inner diameter
450-550mm
Power
Hydraulic power tensioning and looseningand Electric power for turning
Details of the decoiler
Large frame: 150*150*6 square tube,
25mm thick iron plate welding
Spindle : 146*45mm seamless steel pipe 45#
Tension cylinder diameter : 125*80mm
Tension stroke: 470-525mm
Rotation mode: electric rotation, motor 0.75kw
Host feeding: passive feeding, wireless remote control of the control system
Host load-bearing :single head 1.5T, double head 3T
Main hydraulic pump station power : 3kw
Feeding Part
Pressure roller material
Stainless steel
Feeding width adjustment
Manual
Embossing roller
Material
40Cr
Pattern
Orange peel
Profie
2. F5 Profile Roll Forming Machine

Our F5 profile Roofing edge trim roll forming machine for different models based on different designs or customer's samples. It is a machine produce building material of metal roof, the products are widely used as the roof and wall of factory, warehouse, garage, gymnasium, exhibition center. It has many advantages, such as easy installation, short building period, beauty, light weight but high strength.

Brief introduction
Material type
Galvalume
Material thickness
0.46mm
Material Yield Strength
N/mm2 = 380
Material Width
150mm
Weight of Coil
2500kg
Double head hydraulic decoiler 1.5T (total 3 tons)
Loading capacity

1.5T+1.5T

Uncoiling width

300mm

Inner diameter

450-550mm

Power

Hydraulic power tensioning and looseningand Electric power for turning

Details of the decoiler
Large frame: 150*150*6 square tube,
25mm thick iron plate welding
Spindle : 146*45mm seamless steel pipe 45#
Tension cylinder diameter : 125*80mm
Tension stroke: 470-525mm
Rotation mode: electric rotation, motor 0.75kw
Host feeding: passive feeding, wireless remote control of the control system
Host load-bearing :single head 1.5T, double head 3T
Main hydraulic pump station power : 3kw
Feeding Part
Pressure roller material

Stainless steel

Feeding width adjustment

Manual

Profile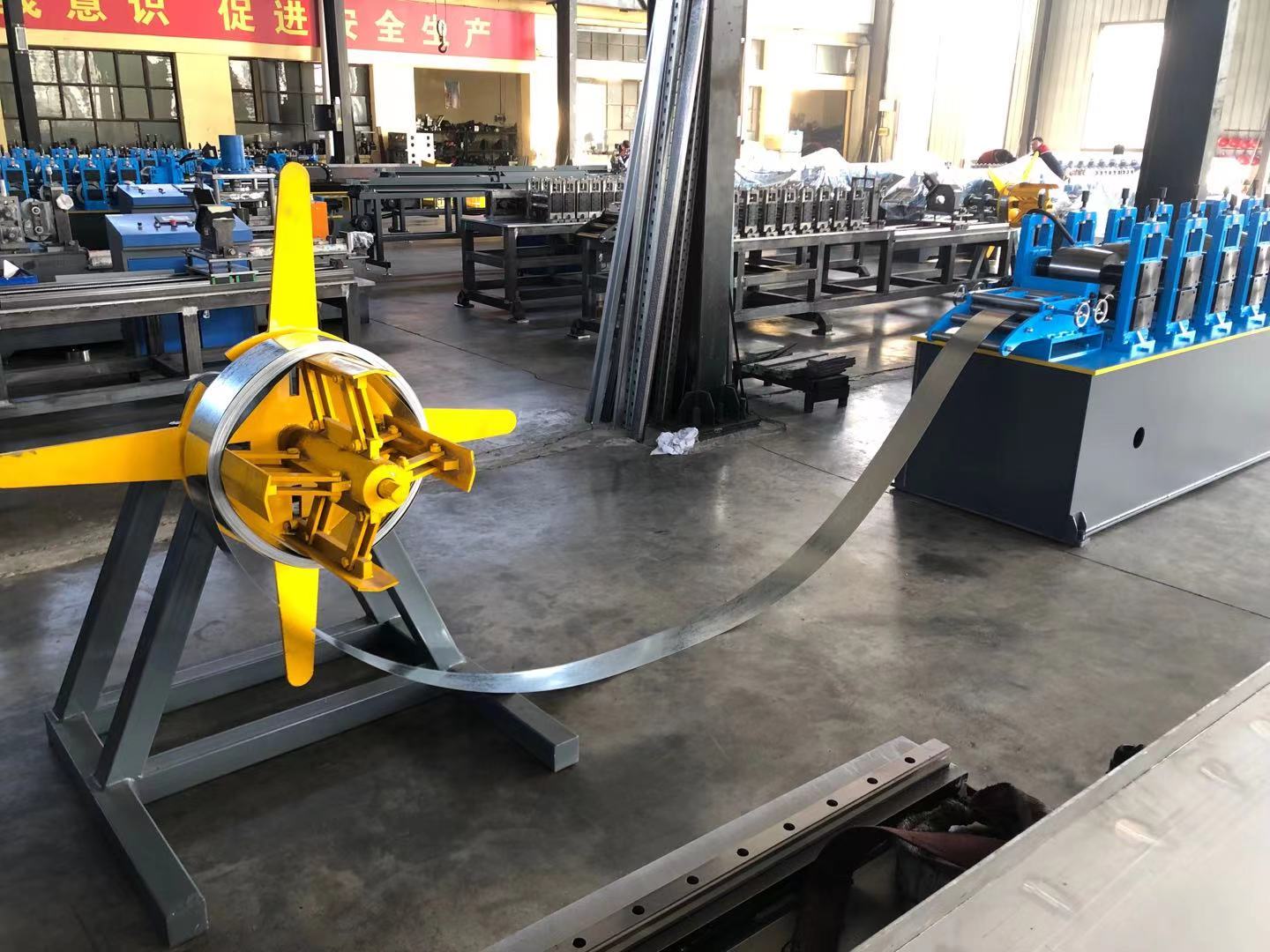 3. 90° DRIP EDGE and Flashing Roll Forming Machine
Brief introduction
Material type
Galvalume
Material thickness
0.46mm
Material Yield Strength
N/mm2 = 380
Material Width
150mm
Weight of Coil
2500kg
Double head hydraulic decoiler 1.5T (total 3 tons)
Loading capacity
1.5T+1.5T
Uncoiling width
300mm
Inner diameter
450-550mm
Power
Hydraulic power tensioning and looseningand Electric power for turning
Details of the decoiler
Large frame: 150*150*6 square tube,
25mm thick iron plate welding
Spindle : 146*45mm seamless steel pipe 45#
Tension cylinder diameter : 125*80mm
Tension stroke: 470-525mm
Rotation mode: electric rotation, motor 0.75kw
Host feeding: passive feeding, wireless remote control of the control system
Host load-bearing :single head 1.5T, double head 3T
Main hydraulic pump station power : 3kw
Feeding Part
Pressure roller material
Stainless steel
Feeding width adjustment
Manual
Profile

4. Step Flashing Roll Forming Machine
Brief introduction
Material type
Galvalume
Material thickness
0.46mm
Material Yield Strength
N/mm2 = 334
Material Width
254mm
Weight of Coil
4500kg
2.5T double head decoiler
Loading capacity
2.5T+2.5
Uncoiling width
450mm
Inner diameter
450-550mm
Power
Hydraulic power tensioning and looseningand Electric power for turning
Feeding Part
Pressure roller material
Stainless steel
Feeding width adjustment
Manual
Profile