Straight seam high frequency ERW pipe mill/tube mill
Straight seam high frequency ERW pipe mill/tube mill is specially used for producing Φ10-Φ200mm, δ 0.4-6.0 mm high-frequency straight seam welded pipe and corresponding square pipe (17*17-62*62mm,1.2-3.0mm). The composition of equipment is from uncoiler to fixed length cutting saw. Rolling speed can be according to suitable range of pipe diameter and wall thickness.
Work flow of HG32 Small pipe welded pipe machin
e:Raw material (steel coil) → uncoiling → non-power leveling →roll forming → high-frequency welding → removing burrs outside of weld seam → cooling → sizing → cutting → run-out table
HG32 Small pipe welded pipe machin
e
Working Principle
:
For welding, it makes full use of two sciences-high-frequency current Skin-Effect and Adjacency Effect to make the current concentrate on the edge, then the temperature will reach to the point of welding. Then we can make the sheet to pipe by rolling and make the edge melting to one.
This technology has the following features:
1.It supports many kinds of material like carbon steel, GI and others.
2.One machine could make a large range of pipe sizes by changing mold.
3.One machine could be used to make square pipe, round pipe by changing mold.
4.High working efficiency but low energy consuming. The power is 200KW TNGP.
5.The pipe made by this kind of machine could be used in many areas like water tube, wire pipe and others.
Detail elemenet requirements of HG32 Small pipe Welded Pipe Machine
:
1. Double head decoiler
Structure type: single-side manual expanding tight, which insure steel coil feeding alternatively.
1).Steel strip width:39.88-300mm
2). thickness:1.5mm
3).Steel coil O.D. :Φ900-Φ1800mm
4).Steel coil I.D. :Φ500-Φ520mm
5).Steel coil weight: Max.2500kgs
2. Hydraulic shearing and manual welding machineUsage
: this part is for cutting the coiler edge then two coilers could be welded together and then stocked in the accumulator.
3. Coiler feeder to accumulator
This part could help you feed the coil to the accumulator.
4.Shear and butt welder
This part is for welding two coils together for storage of the coil. By this part, you do not need to change coil when it has been used up.
5.Vertical type accumulator or other types, or spiral accumulator
This part is for storage of the coil. And there are many types for you to choose.
6.Main Roll Forming Machine
1).Roller station:13 stations(behind:7 stations, after:6 stations)
2).Diameter of horizontal roll`s shaft: Φ100mm, material:40Cr
3).Diameter of vertical roll`s shaft: Φ50mm, material: 45# steel
4).Main power:200kw
5).Speed:90m/min
7.Sizing unit
This part is for making sure the diameter is accurate. No matter square pipe or other pipes, first we will make it to round pipe.
8. Computer-controlled tracking cutting saw
1).Cutting method: tracking and automatic cutting
2).Max cutting thickness: 5mm
3).Cutting tolerance: ±1.5mm
4).Cutting motor: 30kw
9.F5-200kw solid state H.F welder
Transistor high frequency welding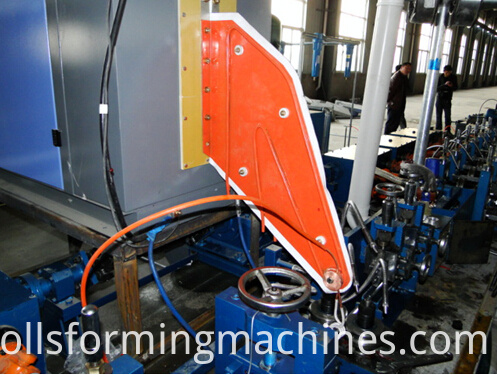 10. Runout table
This part is given according to your needs. As all the pipes will be put away well after cutting by flying saw.